If you are struggling to read the Bible, you are not the only one.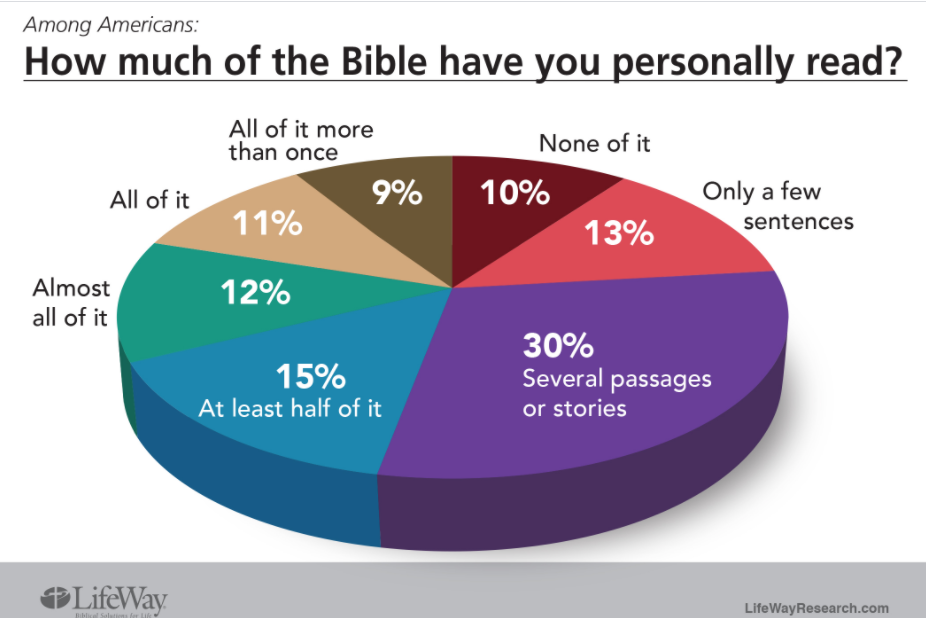 Even though reading the Bible is an important step in drawing close to God, many people just don't take the time to do so.
As a pastor's wife, I have heard, and had, many excuses for not picking up the Bible and reading it. These are a few common reasons for not reading the Bible:
I don't feel anything when I read the Bible
I don't understand the Bible
Don't know where to start reading the Bible
In this post, we will take a look at how believing Christians can "feel" something as they read the Bible.
Why Is It Important To Read The Bible?
The Bible is God's way of speaking directly to us. He lays out His character, holiness, and sovereignty for us. Therefore, it is the perfect way to get to know Him better. Likewise, He exposes our weaknesses, our need for a savior and reveals His will for our lives. Reading the Bible, however, can sometimes feel as monotonous as paging through a textbook. We can lose the meaning of scripture if our approach is that of a fact-finding mission. If we want scripture reading to evoke an emotional response in us, we must engage both our hearts and our minds. Let us look at what sort of emotions we should expect to experience as we engage our hearts.
I Don't Feel Anything When I Read The Bible.
The law of the LORD is perfect, refreshing the soul. The statutes of the LORD are trustworthy, making wise the simple. The precepts of the LORD are right, giving joy to the heart. The commands of the LORD are radiant, giving light to the eyes. The fear of the LORD is pure, enduring forever. The decrees of the LORD are firm, and all of them are righteous. They are more precious than gold, than much pure gold; they are sweeter than honey, than honey from the honeycomb. By them your servant is warned; in keeping them there is great reward.

Psalm 19:7-11
Have you ever picked up your Bible, read a chapter, and then moved on without giving what you read a second thought? Then two minutes later, you can't even remember what you read! At 5 o'clock in the morning before I've had any coffee? You bet I've done this.
Maybe laziness has crept in? You slowly stopped putting the time and effort into "digging in" to what the scripture says. Oh, those halfway used journals!
Or, maybe you are a new Christian, and the idea of "engaging your heart" to read scripture is new to you. You were just told "Congratulations! Now just be sure to read your Bible every day," without helpful guidance.
Whatever the reason, without engaging our hearts and minds, our Bible reading becomes dull. As lusterless as a 40-year-old's face that they refuse to exfoliate. Day after day, reading the Bible becomes less critical because it is not eliciting any emotion. Soon reading all together stops because we "weren't getting anything out of it."
What Emotions Should I Expect When Reading Scripture?
When we read verses like Psalm 19:7-11, we see several emotions attributed to reading God's Word. And we see these same emotions throughout scripture.
Reading God's word should inspire:
Joy in the heart
A refreshing to the soul
The desire to treat God's word as precious
Security in a firm foundation
Absolute trust in its teachings and instructions
But for many Christians, this just isn't happening as they read the Bible.
Does The Lack Of Emotion When Reading The Bible Make Me A Bad Christian?
The struggle to "feel" something as you read the Bible does not make you a bad Christian. What it does is prove what Jesus says in Matthew 26: "that the Spirit is willing but the flesh is weak." That though we, as Christians, are made alive in Christ, we must still battle the sinful nature in us.
It is this struggle with the flesh that creates such low results in this Lifeway Research survey:

But our struggle with the flesh is not a hopeless one! Christ has already defeated sin on the cross for us. He has given us His Holy Spirit so that we may know that His "grace is enough for you, for my power is made perfect in weakness" (2 Corinthians 12:9). "But I say, walk by the Spirit, and you will not gratify the desires of the flesh" (Galatians 5:16).
How To Engage Your Heart When Reading The Bible.
Whether we are battling the sin of laziness or just learning how to read the Bible, we must engage our hearts and minds. There are several things we can do to help us. We must:
Pray for God's help
Remind ourselves of the Gospel
Meditate on what we read
Pray For God's Help.
Everything we do in life must begin with Prayer. In fact, Romans 12:12 tells us to "be constant in prayer." Prayer increases our reliance on the Lord and brings us into a heart of worship. We also build our relationship with the Lord as we communicate with Him. "The Lord is near to all who call on him, to all who call on him in truth" (Psalm 145:18).
Prayer also builds our confidence in God as we see Him answer our prayers and fulfill His promises. One of Jesus' promises to us is: "And I will do whatever you ask in My name, so that the Father may be glorified in the Son. If you ask Me for anything in My name, I will do it" (John 14:13-14).
Jesus seeks to glorify the Father. If you seek to glorify the Father, by engaging your heart as you read the Bible, then ask Jesus. He will do it for you!
What If I Don't Know What to Pray?
Prayer is intimidating to so many of us! You are not the only one to feel as if you are saying the wrong things. In fact, I am pretty sure we all do it wrong in some way or another. What is so wonderful is that God gives us all the tools we need.
Another purpose of the Holy Spirit! Not only is He making us strong in our weakness, but he is also perfecting our prayers for us. Paul tells us in Romans 8:26 "Likewise the Spirit helps us in our weakness. For we do not know what to pray for as we ought, but the Spirit himself intercedes for us with groanings too deep for words."
I'm hoping you see this pattern: as Christians, there are things that we ought to do that in our weakness we don't do perfectly. So God steps in and gives us the power to do the things we ought to do, perfectly.
If you don't know how to pray for God to engage your heart, use your best-written resource: Scripture! Look up verses about God's Word and turn them into prayers. Here is a chart for some examples. There are many more than this!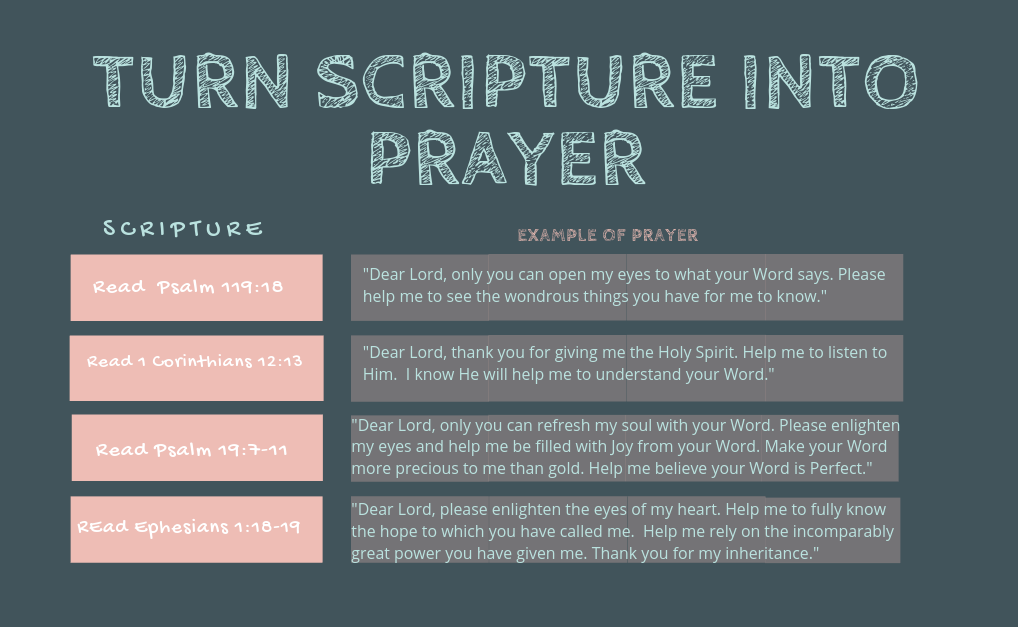 Remind Yourself Of The Gospel.
If there is a struggle to engage the heart while reading the Bible, then be sure to do some introspection. If it is not a problem with understanding scripture, what is the cause of the detachment? Has complacency replaced the desire to grow in knowledge and understanding?
Is boredom now residing where excitement once lived? Is gratitude lost to a forgotten victory over sin and death?
This is why I believe it is important to remind yourself of the Gospel often. I don't mean the cursory "Jesus died for my sins" reminder. I mean a full-on reminder of all that you were and all that Christ accomplished for you. Even Peter felt it was important to remind believers of what they already knew
So I will always remind you of these things, even though you know them and are firmly established in the truth you now have. 13 I think it is right to refresh your memory as long as I live in the tent of this body, 14 because I know that I will soon put it aside, as our Lord Jesus Christ has made clear to me. 15 And I will make every effort to see that after my departure you will always be able to remember these things.
2 Peter 1:12-15
Be sure you are not leaning on your own self-righteousness. For "When pride comes, then comes disgrace,
but with humility comes wisdom" (Proverbs 11:2). Instead, rest and rejoice in the righteousness given to you by Christ.
Remind Yourself Of What You Were Before Salvation
"The Lord saw how great the wickedness of the human race had become on the earth, and that every inclination of the thoughts of the human heart was only evil all the time." Genesis 6:5
"What comes out of a person is what defiles them. 21 For it is from within, out of a person's heart, that evil thoughts come—sexual immorality, theft, murder, 22 adultery, greed, malice, deceit, lewdness, envy, slander, arrogance and folly. 23 All these evils come from inside and defile a person." Mark 7:20-23
"The person without the Spirit does not accept the things that come from the Spirit of God but considers them foolishness, and cannot understand them because they are discerned only through the Spirit." 1 Corinthians 2:14
"As for you, you were dead in your transgressions and sins, 2 in which you used to live when you followed the ways of this world and of the ruler of the kingdom of the air, the spirit who is now at work in those who are disobedient. 3 All of us also lived among them at one time, gratifying the cravings of our flesh[a] and following its desires and thoughts. Like the rest, we were by nature deserving of wrath." Ephesians 2:1-3
"Once you were alienated from God and were enemies in your minds because of your evil behavior." Colossians 1:21
Remind Yourself Of What Christ Accomplished For You
"For if, while we were God's enemies, we were reconciled to him through the death of his Son, how much more, having been reconciled, shall we be saved through his life!" Romans 5:10″
"But God demonstrates his own love for us in this: While we were still sinners, Christ died for us." Romans 5:8
"But because of his great love for us, God, who is rich in mercy, 5 made us alive with Christ even when we were dead in transgressions—it is by grace you have been saved." Ephesians 2:4-5 
"And in him you too are being built together to become a dwelling in which God lives by his Spirit." Ephesians 2:22
"And you also were included in Christ when you heard the message of truth, the gospel of your salvation. When you believed, you were marked in him with a seal, the promised Holy Spirit, 14 who is a deposit guaranteeing our inheritance until the redemption of those who are God's possession—to the praise of his glory." Ephesians 1:12-14
Remind Yourself To Grow
"For this very reason, make every effort to add to your faith goodness; and to goodness, knowledge; 6 and to knowledge, self-control; and to self-control, perseverance; and to perseverance, godliness; 7 and to godliness, mutual affection; and to mutual affection, love. 8 For if you possess these qualities in increasing measure, they will keep you from being ineffective and unproductive in your knowledge of our Lord Jesus Christ." 2 Peter 1:5-8 
"Therefore, my dear friends, as you have always obeyed—not only in my presence, but now much more in my absence—continue to work out your salvation with fear and trembling, 13 for it is God who works in you to will and to act in order to fulfill his good purpose." Philippians 2:12-13
"And this is my prayer: that your love may abound more and more in knowledge and depth of insight, 10 so that you may be able to discern what is best and may be pure and blameless for the day of Christ, 11 filled with the fruit of righteousness that comes through Jesus Christ—to the glory and praise of God." Philippians 1:9-11
"Therefore, rid yourselves of all malice and all deceit, hypocrisy, envy, and slander of every kind. 2 Like newborn babies, crave pure spiritual milk, so that by it you may grow up in your salvation, 3 now that you have tasted that the Lord is good." 1 Peter 2:1-3
Meditate On Scripture To Feel Again.
Here is the major difference between reading a textbook and reading the Bible: when you are reading the Bible you are reading the actual WORDS OF GOD. He is the author of it all. It gives me the chills.
"For the word of God is alive and active. Sharper than any double-edged sword, it penetrates even to dividing soul and spirit, joints and marrow; it judges the thoughts and attitudes of the heart" (Hebrews 4:12).
But often, we don't know how to apply what we are reading in the Bible, and therefore, it doesn't stir our emotions.
One of my favorite Pastors to read is Timothy Keller. With just two books, he has helped to increase my understanding of how and why to pray, and also how to forgive. (In fact, shameless plug here, Keller has this wonderful little daily devotional book that I adore. It walks you through the Psalms, drawing out the application and then turning it into a prayer!! Found on Amazon HERE)
On Tim Keller's website, Redeemer Church and Ministries, he offers so many free resources to help Christians grow. One such resource is a pdf that includes instructions on how to apply the Bible. It includes these steps to meditate.
Steps To Meditate.
Meditate: Become aware of God's loving presence and read the passage again, perhaps out loud.
Notice how He might be speaking to you. Dwell on a word, phrase, or theme that jumps out at you.
What has connected to my heart or mind? (e.g. a characteristic of God to be grasped, a command to be obeyed, a comfort to be savored)
Think deeply about it. What does it mean? What is it really saying? Put it into your own words.
What can I adore God for because of this? What sins can I confess? What can I thank Him for? What petitions can I make?
Why is God showing me this today?
How does God want me to respond? How does He want to transform my heart, thinking, habits, and/or
relationships?
These questions are a great resource to help focus your mind and engage your heart. Print the PDF l supplied in the link above. Or grab a notebook or journal and write them out each day for the passage you are reading. You will see a difference as you regularly start to do these steps.

Conclusion
Don't let the lack of feeling emotions while reading the Bible deter you from striving on. The Lord has provided you with every tool necessary to engage your heart. You have a constant audience with Him in prayer. He has given you the Holy Spirit to strengthen you in your weakness and guide you in your prayers. You have God's very own words at your fingertips that will transform your heart when you meditate on them. Use God's Word to remind yourself often of The Gospel and what it has accomplished. You will begin to feel God's joy in your heart and the refreshing of your soul when you do all of these things.